As businesses continue to modernise their fleets the amount of AdBlue® they need, naturally increases. Often the most cost effective (and simplest) way for small to medium size businesses of managing their AdBlue® supply is to purchase a 1000 litre AdBlue® IBC together with a simple gravity hose kit.
Regular users will notice the cost savings (per litre) fairly quickly and at WavianBlue we make the process as simple as possible.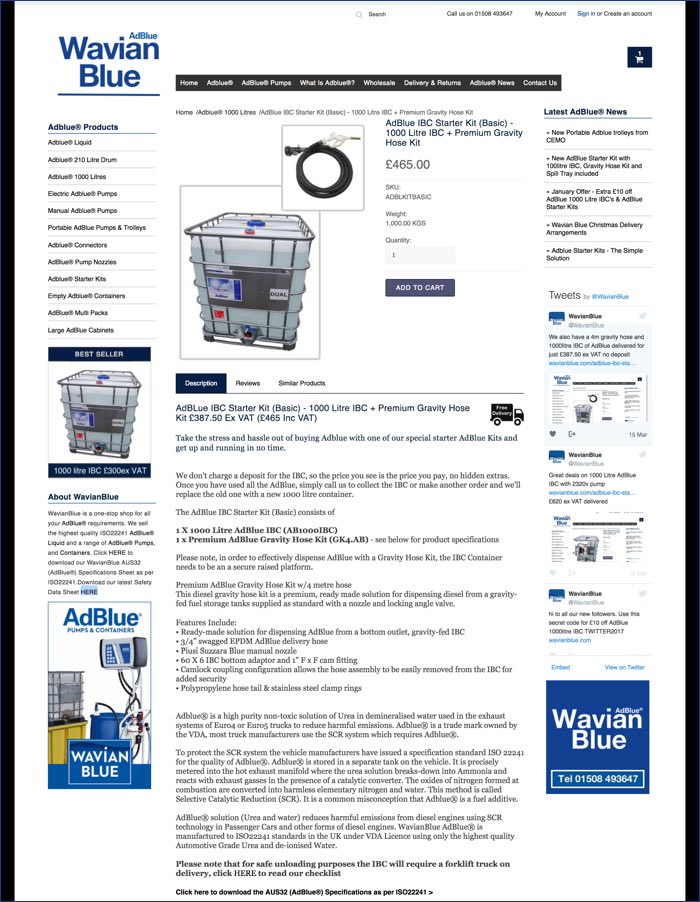 Step 1 – Visit our shop and select IBC Starter Kit 1Step 2 – Enter your delivery details and make a payment via our (very easy to use) secure checkout. We're happy to take enquires from bulk users, Step 3 – THAT'S IT!
Wait for 2-3 working days and your order will arrive. Please note you will need a Fork Lift Truck to remove the IBC from our delivery vehicle (as it is very heavy). Also if you choose to purchase a gravity kit the IBC will need to be raised up from the ground in a secure location. We don't charge a deposit for the IBC and once it is empty just give us a call and we'll take the old one away and deliver another. 
For more info about receiving an AdBlue® delivery from WavianBlue click HERE. If you need further help give us a call on 01508 493 647 or email sales@wavian.netand we'd be happy to help.