Wavianblue continues to increase our product range and we're proud to announce the arrival of 2 excellent AdBlue® trolleys from quality German manufacturer CEMO.
The AdBlue® trolleys are particularly useful if you have a fleet of vans or vehicles that require AdBlue® and regular top-ups and allow you to take the AdBlue® to the fleet rather than running in and out of vehicles to take them to your IBC to fill up. The trolleys are available in two sizes, a 60 litre AdBlue® trolley and a 100 Litre version.
---
Featuring stainless steel fittings, each trolley is available in 3 variations, a crank pump (manual) and two battery versions.
Crank Pump
• solid construction for professional operation
• housing in stainless steel and techno-polymer
• delivery rate 0.38 l per revolution
• with hand delivery
• independent of electrical energy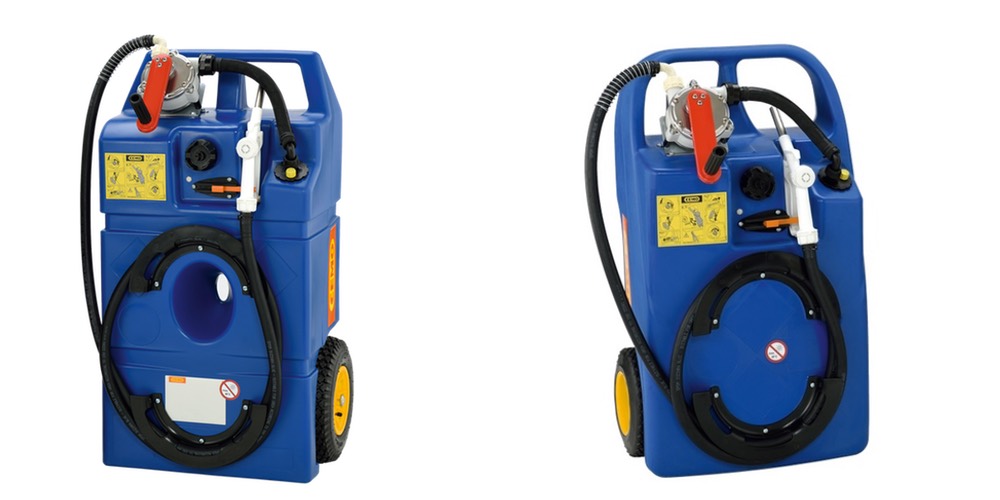 CENTRI SP 30
• electric immersion pump 12v, max 20A
• delivery rate approx 25 l/min
• 4m cable with fuse, switch and terminal clamps
• always self-priming, low operating noise
• with lightweight automatic delivery nozzle in plastic/ stainless steel


CENTRI SP 30 and lithium iron phosphate battery (LiFePO4)
• totally mobile and cable free, independent of vehicle batteries
• polarity-proof holder with snap fuse and switch
• 13.2V nominal voltage, capacity 3.3Ah, sufficient for approx 300l
• operating temperature range -30˚C to + 80˚C
• very low self-discharge, no environmentally harmful heavy metals, no memory effect
• high intrinsic safety and integrated protection circuit, electrical protection class IP 67
• includes charger 100-240V AC out put 14,4V-3A
Prices start at £479 including VAT and FREE delivery for the 60 litre AdBlue® trolley with hand crank and £535.99 for the 100 litre AdBlue® trolley.