For a strictly limited period while stocks last we've got £50 off our AdBlue® liquid bulk orders in 10 & 20 litre containers.
We've reduced the price of our 40 X 20 Litre bottles (800 litres Total) from £673.92 to £623.92, thats a whopping £50 off.
The price also includes delivery and works out at just 64p per litre (ex vat), for more info visit https://www.wavianblue.com/adblue-liquid-40-x-20-litres-800-litres-total
Our second offer is for 10 litre AdBlue® liquid, we've taken £50 off the regular price of 90 X 10 litres – 900 litres
Total from £645.84 to £595.84 (55p ex vat per litre)https://www.wavianblue.com/adblue-liquid-90-x-10-litres-900-litres-total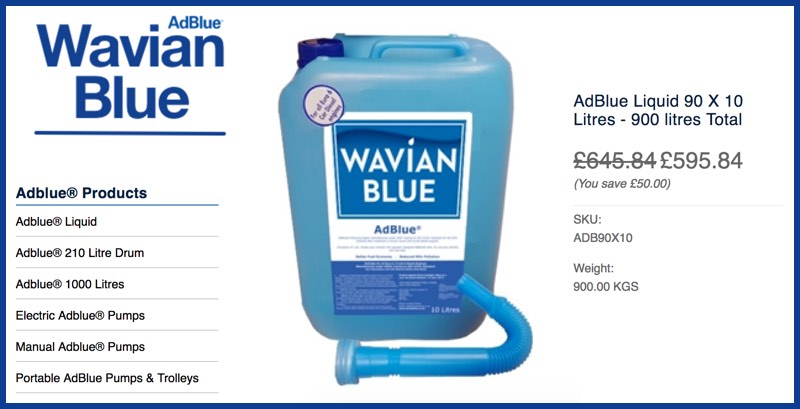 Our AdBlue® is made to the highest ISO quality standards, look for the spec sheet here
Other Options – AdBlue® Starter KitsIf you're looking for an even lower price per litre, we also sell 1000 litre IBC's for just £300 ex VAT delivered (30p per litre). If you are new to AdBlue® you will need a forklift truck for delivery and some sort of hose to dispense from the IBC.
We recommend one of our great value AdBlue® Starter Kits, these include a 1000 Litre IBC of AdBlue® and a gravity hose kit enabling simple dispensation of the liquid. This is the most cost-effective solution, but would require the IBC to be raised above the ground in order for the hose kit to work (with gravity).
Where this is not possible we would recommend one of our premium AdBlue® starter kits containing an electric pump, either 230v (click here) or 12v powered (click here).
For any questions regarding AdBlue® and specific requirements please give us a call on 01508 493 647 and we will be very happy to help.