AdBlue® is used in many different kinds of vehicles as a way to reduce NoX emissions. From trucks to tractors and other farming vehicles and machinery, newer diesel cars and vans, many use AdBlue® as an integral part of their selective catalytic reduction system (or SCR).
---
In a commercial environment we find many of our customers decide to purchase a 1000 litre IBC, for a starters unless you are using ALOT of AdBlue® they are definitely the most cost effective and convenient way to purchase AdBlue®. Our current price is just £300ex vat for a  1000litre IBC full of AdBlue®. We try to make ordering as simple as possible so for that reason we don't charge a deposit and delivery is normally in 2-3 working days.
Now, as we are doing an A to Z of AdBlue® you're probably wondering when we get to the 'T'. Ok, so I haven't forgotten. 'T' is for Trolley, and in this particular case an AdBlue® trolley. These clever things can be wheeled around easily in order to fill up your vehicles without having to bring them into your nice clean warehouse or organising a major parking reshuffle in the yard.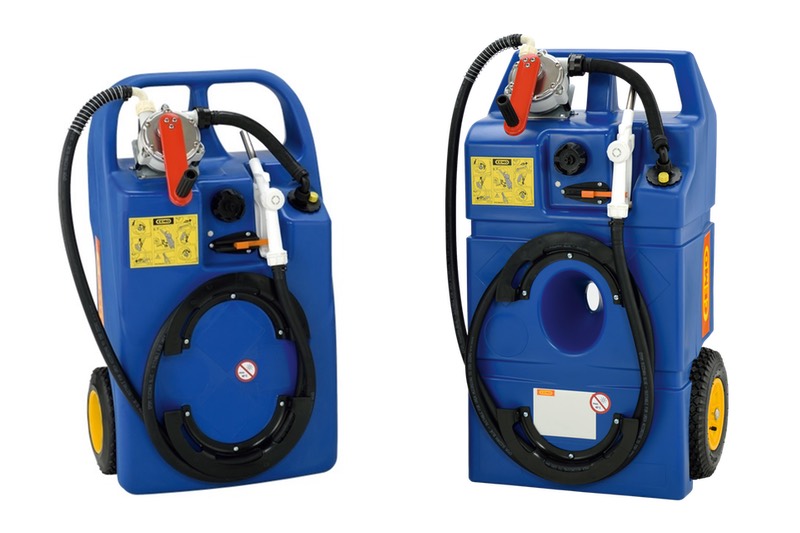 We recommend all our AdBlue® trolleys, but if you are after the absolute best CEMO AdBlue® trolleys come with a fine recommendation and are precision engineered in Germany.
Available in 2 sizes 60 litre and 100 litre, the AdBlue® trolleys are available in three different options. Depending on requirements (and your muscles) you can choose between a hand crank dispensing solution,  a 12V batter option or a CENTRI SP 30 battery powered model that uses a battery and charger system a bit like your digital camera does that will power the AdBlue® trolley for long periods of usage.
---
If the items are in stock delivery is within 2-3 working days, otherwise delivery time is approx 2 weeks.
If you have any further questions about these CEMO AdBlue® trolleys or any other aspect of our AdBlue® service please feel free to call our team on 01508 493 647 or email sales@wavianblue.com