As we draw closer to the end of our A to Z of AdBlue® (I'm still thinking about what to write for 'x') hopefully we've been able to share a wider understanding of this mysterious and little talked about clear liquid that is used by so many vehicles all over the world.
If there's one thing we've tried to stress the importance of in this blog is the importance of using high quality AdBlue® in your system. Trying to save a few quid and going with a lower grade AdBlue® could be seriously bad for your car, and wallet. Purchasing AdBlue® from WavianBlue brings peace of mind – all our AdBlue® is made to the highest standards available and meets all EU purity regulations.
Follow the links to download our Wavian AUS32 AdBlue® spec sheet & safety sheets.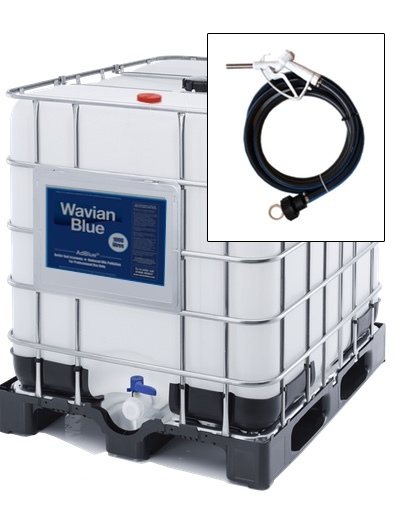 The reality is our pricing structure means that you're unlikely to find a supplier who can deliver you a 1000 litreIBC for less than £300 ex VAT including delivery whatever the quality is like. We don't charge a deposit for the IBC either and that means you're not tied into some complicated scheme where someone else is holding money that could be in your account.
Simple is always best and the price on our website for AdBlue® liquid is the price you pay – no hidden extras.
But, it's not only AdBlue® either, we're also a major supplier of AdBlue® pumps and accessories and one of our most popular items is the AdBlue® Starter Kit. Comprising a 1000 Litre IBC and a 4 metre gravity hose kit it's a great way to start saving money immediately on your AdBlue® use. All we ask is that you have a fork-lift truck on site for ease of delivery and that if you go for a manual gravity kit you may want to have the IBC raised up on a secure platform in order to dispense the AdBlue® efficiently.
For people using a lot of AdBlue® we recommend the excellent AdBlue® rotary hand pumps, great for your biceps too! Or for the next step up we also have a range of electric AdBlue® pumps too (either 12v or 230v).