We find that many of our customers are perfectly happy using our basic AdBlue® gravity hose kit, but for others who are using larger quantities of AdBlue® many find investing in a powered AdBlue® Pump makes dispensing the AdBlue® quicker and easier.
When it comes to powered AdBlue® Pumps there are two main options – 12V and 230V. If your AdBlue® IBC is situated away from a regular plug socket your best option for connecting an AdBlue® pump to a power source is via a 12v battery. This can be a traditional car battery connected from the pump via bulldog clips. This set up is very simple and works really well. It also means that if you have more than one AdBlue® IBC it's very easy to disconnect and reattach your pump.
This battery powered AdBlue® Pump Kit for 1000 Litre IBC is an ideal choice.
www.wavianblue.com/adblue-pump-kit-for-1000-litre-ibc-230v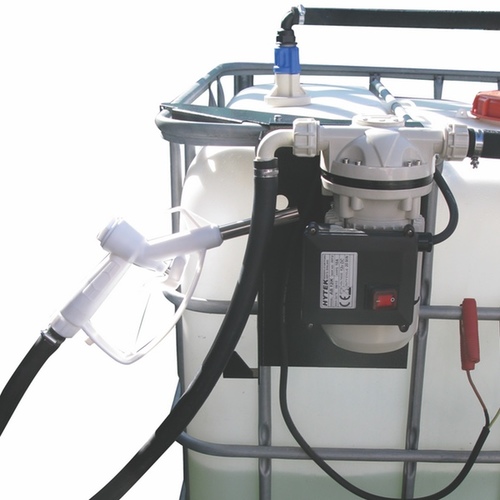 Tech Specs
• Supplied as a complete kit.
• 4m x ¾" delivery hose
• 1.5m suction hose & SEC connector. C/w switch & 2m battery cable & croc clips (battery not included).
• Self‑priming diaphragm pump & bypass valve.
• Manual nozzle for AdBlue® with stainless steel tip.
• Built in nozzle hanger.
• Weatherproof to IP55 for outdoor use.
There are also options to add an automatic nozzle which will shut off (like a regular fuel pump) once the tank is full.
The other option is to fit an electric AdBlue® pump to your IBC that connects directly to the wall socket. The obvious convenience of this method means that you don't need to worry about buying a battery or carrying the battery from one location to another.
This 230v electric AdBlue® Pump Kit is a popular choice for heavier users of AdBlue®
www.wavianblue.com/adblue-pump-kit-for-1000-litre-ibc-230v