As a leading supplier of high quality, low cost AdBlue® we receive lots of enquires from new customers wishing to purchase either a 1000 Litre AdBlue® IBC or one of our great value IBC AdBlue® starter kits.
We thought it might be helpful to publish some information about what happens once we receive your order right through to you receiving your delivery.
If you have ordered an AdBlue® IBC from our website between 8.30am and 5pm Mon-Thu and 8.30am-4pm on Fridays (current price as of 19th July 2018 is £300 ex VAT) we will immediately begin to process it. If it is ordered away from these times it will be processed once we get back.
If you're a new customer we'll need to give you a quick call to confirm a couple of details, so double check the telephone number you give us.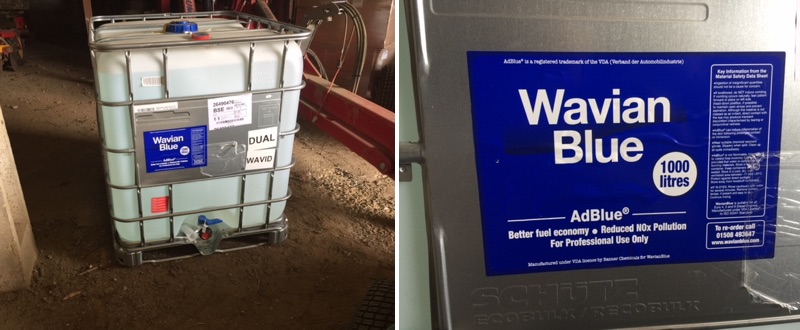 We'll need to make sure that you have a forklift truck on site to remove the IBC from our truck (if you don't we can coordinate delivery in order for you to borrow one from a nearby business), we'll also confirm the approx delivery lead times. We will then arrange for your IBC to be delivered from one of our national distribution centres.
If you are ordering an AdBlue® IBC or 210 drum starter kit please remember that you will probably receive your pump BEFORE your IBC. The IBC's and pumps come from different warehouses so they will arrive separately. We often get calls from customers wondering where the pump is when in fact it's already been delivered to the main office a couple of days before.
A gravity hose pump will screw onto the bottom fitting on an IBC whereas an electric pump or manual rotary or piston pump should be attached to the front cap at the top of the IBC (see pic). Make sure you don't touch the larger screw cap at the top, this is sealed and removal will incur a charge.
Once delivery has been made we'll automatically email you a VAT invoice and we'll even give you a quick call after a few months to make sure everything is fine.
We have a wide range of AdBlue® pumps, ranging from the most basic Gravity Hose Kit all the way through to automatic nozzle / shut off premium 230v electric pumps. For more info details
visit www.wavianblue.com
If you require any additional information about your AdBlue® usage or any of our products, feel free to contact us on sales@wavianblue.com or call us on 01508 493 647