11th December AdBlue® cut off delivery date
As Christmas approaches and the year draws to a rapid close we'd like to take this opportunity to thank all our AdBlue® customers for their business in 2019. This is never something we take for granted and we look forward to working with you again in 2020. We're committed to offering low price high quality AdBlue® together with an exceptional customer service experience, fast delivery and hassle free ordering.
The last day that you will be able to order an IBC in order to guarantee delivery before the Christmas holiday period will be Wed 11th December. Any orders taken after this day may still be delivered before Christmas, but it's possible they may also arrive on or after Jan 2nd in the New Year. If you have extended Christmas holidays (either before or after) please let us know in your order notes..
Our offices will be closed between Fri 19th Dec 12pm and Thu 2nd Jan 2020.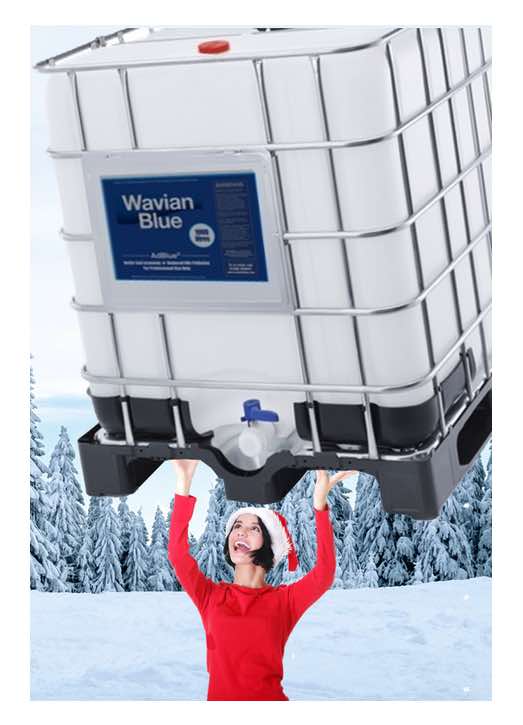 Opening an account
If you are ordering AdBlue® from us on a regular basis, but don't yet have an account feel free to get in touch with us on 1508 493 647 or email sales@wavian.net. Once you're on the system all you have to do is call us with your order and we'll do the rest. Very easy!
In addition to our bulk AdBlue® 1000 litre and 210 litre containers we also sell a wide range of AdBlue® pumps and accessories to help you take the AdBlue® from out of the IBC or drum and into your vehicle or container. Incidentally if you are looking for a smart, strong and long lasting AdBlue® container we highly recommend these 10 & 20 Litre Hunnersdorff containers (see below). They are ideal to keep in the back of your car / van / truck in case of emergencies.
You can purchase them directly on our website here >