We've been fighting to keep prices as low as possible for our customers during the last 18 months, but unfortunately due to ever increasing raw material and production costs we have had to implement a small price increase on some of our AdBlue® liquid items. The price increase is 1p ex vat per litre, so essentially a 1000 Litre IBC will now cost and extra £10 ex vat. We are constantly looking at the situation and should our costs be reduced in the future we hope to be able to pass this down to our valuable customers.
We have, however kept a price freeze on all our AdBlue® starter kits, including the basic AdBlue® 1000 Litre IBC with gravity hose. This means that these AdBlue® Starter Kits are now even more value for money than before.
We hope our exciting (and new) customers will appreciate our situation for increasing these prices and we will be continuing to provide our un-rivalled customer service and excellent value for money on all our AdBlue® liquid and accessories.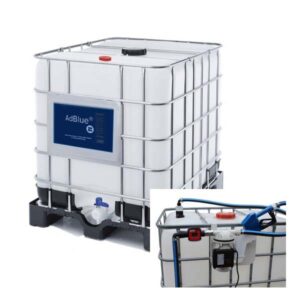 Out of stock
£

1,512.00 inc VAT (

£

1,260.00 ex VAT)
Should you have any enquires regarding bulk orders of AdBlue® (including a custom price for delivery of over 2000 Litres, please feel free to contact us on 01508 493 647 or email sales@wavian.net