While AdBlue® (also known as Diesel Exhaust Fluid or DEF) is not as toxic or volatile as some other chemicals, in order to keep it in tip-top condition it needs to be looked after and stored in the right way. Failure to do so will at best shorten the life span of your AdBlue® and at worse cause a serious accident. Talking of accidents, we also recommend purchasing a Spill Kit, especially if you are using AdBlue® in a commercial premises. Not only is the protection of your employees hugely important it might also be compulsory under your health & safety guidelines.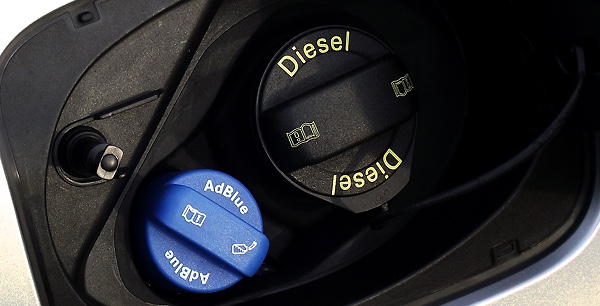 Incidentally you can purchase a range of Spill Kits on our other website www.jerrcans.co.uk.
Don't put it in your fuel tank
AdBlue® is not something that is ever added to the fuel directly and in fact, doing so will cause severe problems to your vehicle. AdBlue® is always contained in a separate compartment, either next to your fuel tank or often under the bonnet of you car. If you do put AdBlue® in your tank by mistake don't start the engine and seek professional help.
What does AdBlue® do?
The basic idea behind AdBlue® is to reduce CO2 emissions. The technology is complex, but the principle behind it is fairly simple. When used as part of a Selective Catalytic Reduction (SCR) system the AdBlue® is mixed with the CO2 emissions and effectively dampens them down before the become airborne.
What shall I buy?
AdBlue® will have a normal shelf life of around 12 months and we always recommend to our customers of bulk AdBlue® to purchase a 1000 Litre IBC, mainly because it is the most cost effective way to buy (currently 30p per litre ex vat as of 1st May 2019). If you have a reasonable sized fleet or a number of farm vehicles you will know how quickly you can get through AdBlue® and purchasing a 1000 Litre AdBlue® IBC is a good way to just get it and forget it.
AdBlue® Drums
If you are using less AdBlue®, another low cost solution is to purchase a 210 litre drum. While slightly more expensive per litre (click here to view 210 litre AdBlue® drums) they are also more portable and we also have a range of AdBlue® starter kits that include an AdBlue® pump (either manual or electric) and offer excellent value of money compared to purchasing separately.
Not too hot, not too cold
It's very important to look after the AdBlue® once purchased and while it can be stored outside, be careful it will freeze at low temperatures (-11˚C). However should your AdBlue® freeze it can be reused by thawing it thoroughly before use. in contrast, storing AdBlue® in a warm environment (above 36˚C ) will cause it to decompose.
How do I get it out of my big container?
Many customers fill their vehicles directly from the IBC or AdBlue® 210 litre drum. In order to do this it's a great idea to invest in either a low cost gravity hose pump (for IBC's) or a piston or rotary AdBlue® pump for the 210 litre AdBlue® drums. If you are dispensing a lot of AdBlue® we also supply a range of high quality electric pumps that allow you to fill up quickly and easily. The Electric AdBlue® pumps can be purchased to plug into the wall (240v) or to use with a car type battery (12v). Never mix your AdBlue® with water or any other liquids, the purity is essential and any contamination can also case damage to your vehicle. Likewise never use spouts or hoses for AdBlue® that have been used for fuel or any other chemicals.
5 and 10 litre empty AdBlue® containers
Other customers dispense the AdBlue® directly into AdBlue® containers and keep this in their vehicle in case of emergencies or to fill up when away from the depot or garage. We have recently began selling two high quality AdBlue® containers (a 10 litre and a 20 litre) from manufacturer Hunersdorff.
Click here for more info > These containers have an integrated spout that is housed into a recess in the can. It prevents the spout from becoming damaged in transit and they are designed to be used and reused for many years. They are available to purchase in bulk amounts. Call us for wholesale information.
Should you need any more information regarding bulk AdBlue® call us on 01508 493 647 or email sales@wavian.net and we will be very happy to help.